Shop Settings
Payment
Understanding the payment process is an important step toward getting paid by your customers. When a customer checks out, they can choose to pay for their order using any of the methods that you've enabled in the Payment providers area of Shopify. You can enable a variety of payment methods using Shopify.
There are a few different things to consider when you're choosing which payment methods to offer. If you want to let your customers pay using a credit card, then you can use Shopify Payments or a third-party provider.
There are also several ways for customers to pay online without using a credit card, like PayPal, Amazon Pay, and Apple Pay. You might also want to accept alternative methods of payment like cryptocurrency.
When choosing a payment provider, consider the countries where your business is located and where your customers live. Shopify's list of payment gateways by country can help you find out which payment gateway are available in your country and what currency they support.
You manage all your store's payment methods in the Payment providers area of Shopify.
Helpful links:
Domains
A domain is the URL, or the website address, where your customers go to find your store online. You manage your domain settings for your online store on the Domains page in your Shopify admin. If you use the wholesale channel, then you manage the domain settings for your wholesale store on the Domains page in that channel.
By default, your primary domain is in the form of examplestore.myshopify.com, but you can buy a different custom domain or use a custom domain that you already own.
Helpful links:
Shipping
You manage all your store's shipping settings on the Shipping page in your Shopify admin.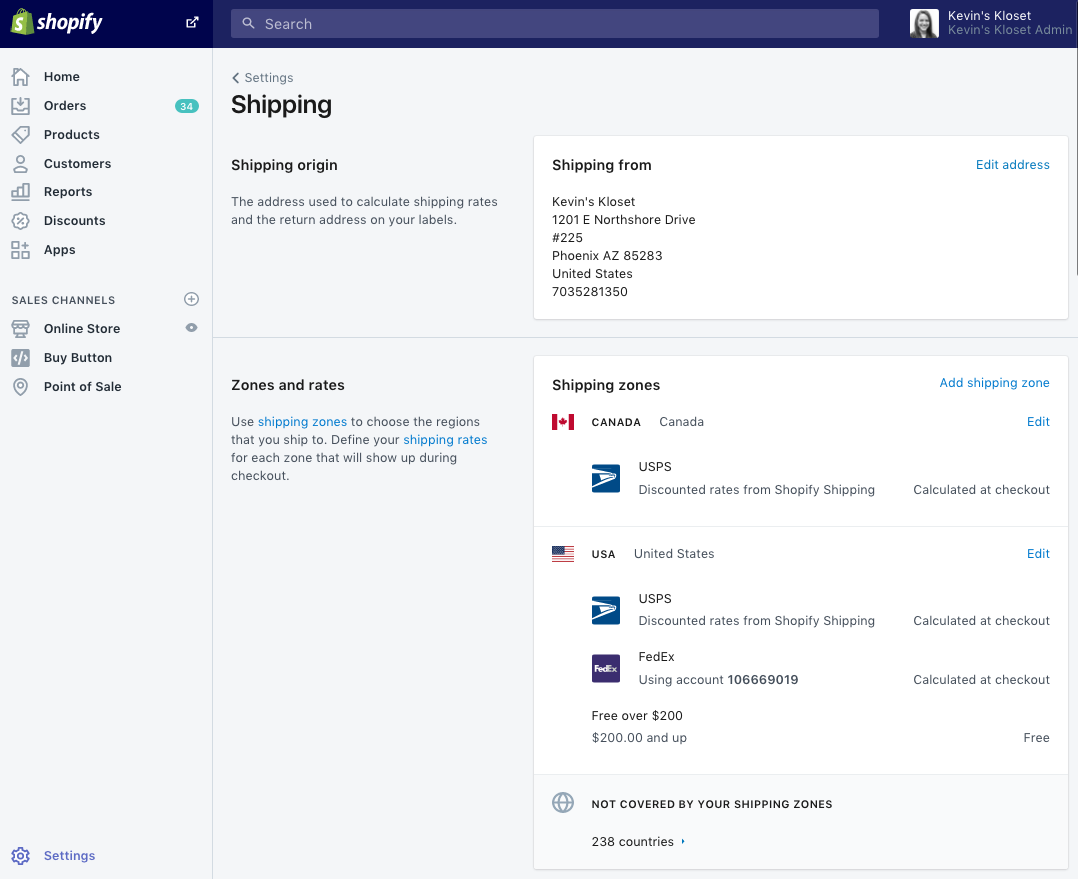 Understanding the best ways to ship your products to your customers is an important part of running your business. Before you take your first order, you need to decide what shipping methods you want to use, and then set up your store's shipping so that your customers can choose a delivery method at checkout.
Helpful links:
Orders
Understanding how orders work in Shopify is an important part of running your business. After a customer places an order (using any of your active sales channels), it appears in the Orders area of Shopify. You can also create orders manually in your Shopify admin to record orders that you've made outside of Shopify or to send your customers email invoices.
You manage all of your store's orders from the Orders page of Shopify.
Helpful links:
Taxes
As a merchant, you might need to charge taxes on your sales, and then report and remit those taxes to your government. Although tax laws and regulations are complex and can change often, you can set up Shopify to automatically handle most common sales tax calculations. You can also set up tax overrides to address unique tax laws and situations.
Shopify uses many default sales tax rates, which are updated regularly. If you use the default rates, then you need to confirm that they are current and correct for your particular circumstances. You can override them whenever necessary.
Shopify doesn't file or remit your sales taxes for you. You might need to register your business with your local or federal tax authority to handle your sales tax. The calculations and reports that Shopify provides should help make things easier when it's time to file and pay your taxes.
You should always check with a local tax authority or a tax accountant to make sure that you charge your customers the correct sales tax rates, and to make sure you file and remit the taxes correctly.
Helpful links:
Customers
Interacting with your customers is an important part of running your business. Every time a new customer places an order with your store, their name and other details are added to your customer list. You can review all your customers and manage your customer information from the Customers area of your Shopify admin and the Shopify app.
If your customers create an account with your store, then they can add their address information to their account so that it autofills during checkout. They can also view their order history with your store, and see the current order status for any purchases they make. To learn how to enable customer accounts, click here.
Helpful links:
Analytics
You can use Shopify's analytics and reports to learn about your sales and customers in great detail. The types of analytics and reports that you can view depend on your Shopify plan.
You can also set up third-party analytics services, such as Google Analytics, to gain further insights and improve your business.
Helpful links:
Productivity tools
The Productivity Tools section is designed to teach you ways to speed up some frequent Shopify admin tasks to help you keep track of your orders. Here are some of the tools and shortcuts available:
CSV files

Use CSV files to import and export large sets of data to and from your Shopify store.

Rich text editor

Use the rich text editor to edit products, collections, pages, and blog posts.

Bulk actions

Fulfill many orders at the same time, delete multiple files to clear space, and more.

Bulk editing

Edit multiple items at once to change price, product title, vendor, or many other properties.

Image editor

Use the photo editor to edit and resize images that you upload to Shopify.

Future publishing

Schedule products, collections, blog posts, and pages to be published at a later date.

Keyboard shortcuts

Move through the Shopify admin without using your mouse.

Free tools

Use one of these free tools to help run your store better.

Tags

Use tags to label products, transfers, customers, orders, draft orders, and blog posts.

Timeline

Send messages and leave comments on orders, draft orders, customers, and transfers without leaving the page.



Apps
You can install Shopify apps to help you build your business, integrate with external services, and add features to your Shopify admin. The best place to find apps is on the Shopify App Store.
You can also use private apps to add features to your Shopify admin, access your store's data directly using Shopify's APIs, or extend your online store to other platforms using custom storefronts.
Helpful links:
Dropshipping
Dropshipping lets you sell products by using a supplier that holds the inventory and ships the product for you. You pay the wholesale price to the supplier, while controlling the price that your customers see in your Shopify store.
When a customer places an order in your store, you purchase the products from the supplier and select how to ship the product directly to your customer. You don't need to hold any inventory or ship items yourself.
Products are the most important part of your dropshipping business, the products that you choose to sell will shape how you run your online store, how you market your store, and who you market it to.
Helpful links: